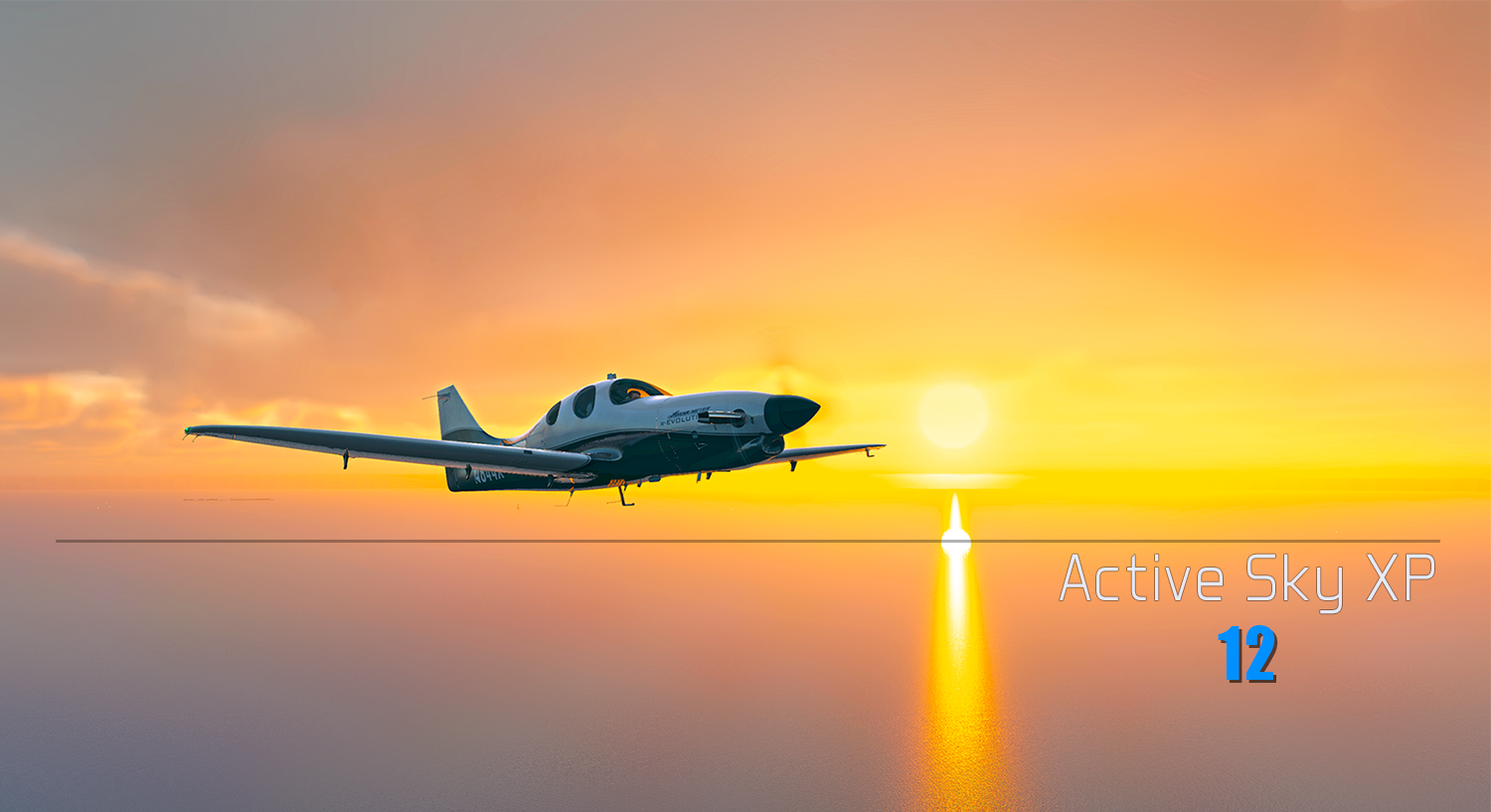 The next installment in the Active Sky series, Active Sky XP 12 brings extensive integration with the new X-Plane 12 platform and it's new weather system.
---
ASXP12 uses the new Regional weather system SDK in X-Plane 12 to provide high levels of accuracy and realism in weather depiction. Cloud heights, types, coverages, visibility, precipitation, wind and more is precisely portrayed at all times, utilizing enhanced high-resolution global weather data and modeling on Active Sky's cloud-based weather network system.
ASXP12 coupled with X-Plane 12 provides weather transition smoothing, improved cloud variations, better lighting, new cloud and graphical weather depiction, and an overall much-improved visual weather experience compared to the previous X-Plane and ASXP version.
As always, Active Sky provides Live, historical, and customized weather options, with historical playback capability, provide the weather exactly as you want it, when you want it.
ASXP12 is currently preparing for initial OPEN BETA, and is not yet released. Stay tuned for more information, features, details and screenshots.
---
Features Spotlight
Active Air Effects Enhances internal X-Plane turbulence and air effects, providing enhanced turbulence, drafts, thermals, terrain-based wind effects, surface friction, gusts, variability, wake turbulence, microbursts and more (XP12 includes internal wake turbulence, AS Wake turbulence enabled for XP11 only – Some effects may be limited/unavailable in XP12).
High-Performance Weather Depiction Uses internal X-Plane cloud depiction for maximum performance and smoothness – VR compatible and optimized!
Active Sky Weather Engine An evolved version of the Active Sky platform brings the core features that made Active Sky the leading weather engine for other platforms: Advanced weather synthesis and interpolation, high-resolution global winds aloft, realistic air and atmosphere effects, a comprehensive weather data network, integrated visual mapping and planning, and much, much more
Voice Weather Delivery Active Sky ATIS and Flightwatch are available at any time by listening on 122.00, 122.02 or 122.03 for closest station, actual/current interpolated conditions and destination weather reports, respectively
Mobile Companion App Use any device/browser to connect with Active Sky over your network and view and control the weather
Features, specifications, requirements and pricing subject to change
---
Requirements
Windows 64-Bit (v7 or later) Only

Mac, Linux and 32-bit X-Plane/Windows versions are not supported
In a networked environment, the ASXP application/client may run on Windows 32-bit (7 or later), but X-Plane must be 64-bit on Windows 64-bit (7 or later)

ASXP12 supports X-Plane 12
X-Plane 12: v12.04 or later (64-bit for Windows) required
Active and stable internet connection (broadband recommended)*
500mb available hard drive space
1GHZ+ CPU
4GB+ RAM
Video Card: Minimum as required for X-Plane 11 or X-Plane 12. DX12/Vulkan Compatible card with 2GB+ VRAM is recommended.
1024×768 minimum available screen resolution to display all user interface features
*Active Sky XP 12 is an online product that will require the creation of a new user account. You must be logged in to use the software. One login per user account is permitted. You can install the software on multiple machines and/or move the software to other machines, but may be logged in only once at a time. Using Active Sky XP 12, creating a user account, and logging into the system require the acceptance of our Privacy Policy at https://hifisimtech.com/privacy-policy.
---
Free Upgrade!
ASXP12 is currently offered as a FREE UPGRADE to all ASXP users!  Your existing ASXP license key and online account will remain valid for either the ASXP original version or the upgraded ASXP12.

---
Open Beta Now Available
ASXP12 is offered in an early OPEN BETA version for all ASXP license holders.  You're now able to download and install ASXP12 and use your existing ASXP license key and online account user ID/password. 
For more information/discussion about ASXP12, see the ASXP12 forum.
If you've misplaced your ASXP license and/or login id/password, please visit your reseller for the license key/download, or our downloads page at https://hifisimtech.com/downloads. You can reset your password using your registered email address and the forgot password link on the ASXP12 login screen.
---
Bug Reports and Suggestions
When participating in the BETA, please understand that there will be expected issues/bugs and the software will not be at full release status or functionality. Bug reports/suggestions should be posted at the site: http://hifisimtech.canny.io and include as much information as possible including screenshots, duplication steps, expected behavior, logs and more. Please always include a LOG export (LOGS button) after an error/issue with all bug submissions.
The above bug report/suggestion site is the ONLY place to officially submit bug reports and suggestions.
For license/order support for ASXP licenses, please visit our Help Desk at http://hifisimtech.zendesk.com.
---
Frequently Asked Questions
Q: Is there an SDK/API for other add-ons to interface with ASXP12?
A: Yes. We provide a comprehensive API including easy-access http interface system to get and set weather and integrate in many different ways with ASXP12. API Documentation is found in the Program Files installation folder of ASXP12 (Documentation subfolder).
---