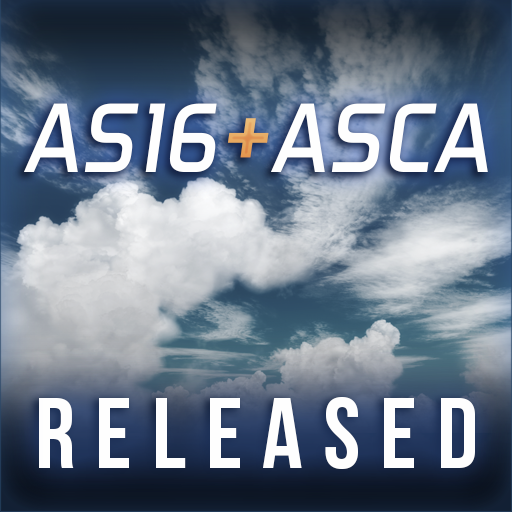 HiFi has announced two new titles that have been officially released and are NOW AVAILABLE!
First is Active Sky 2016 (AS16):
AS16 represents the culmination of 16 years of weather simulation engine development! New In-Cloud Motion Effects, Weather Scenarios System, Airborne Weather Radar, P3D v3 Visibility Smoothing and Volumetric Fog Integration, Navigraph Data Integration, Re-designed Map-based Custom Weather Editing System, Universal Web Companion App, an Improved Mapping System and a High-Latitude Cloud Squeeze Fix are just a few of the new features to debut in this brand new version of Active Sky.
Beyond the many new features, AS16 also extends and improves all aspects of weather simulation and depiction, from data parsing to synthesis, interpolation, depiction, performance, and everything in-between, your entire weather experience will be more realistic than ever before.
AS16 works with any and all graphics add-ons, or can be used with default graphics. Optional integration with Active Sky Cloud Art (listed below) will provide Real-Time Weather-Influenced Texture Dynamics.
A FREE fully-functional 7 day trial of AS16 is available to all users. Try it Now! An upgrade discount for AS16 is also available to licensed users of ASE, AS2012 or ASN.
Next up is Active Sky Cloud Art (ASCA):
ASCA is a new kind of graphics add-on for Flight Simulator X (Boxed or SE) and Prepar3D that incorporates brand new technologies and content types to transform your skies and significantly increase realism, variation and dynamics.
The technology behind ASCA includes optional tight integration with Active Sky 2016 to enable features such as Real-Time Texture Dynamics, which allow you to manually change or have your textures automatically changed multiple times throughout a flight without needing to shut-down and restart your simulator! The variation experienced throughout a flight  with AS16 + ASCA is unprecedented, especially when flying through areas of varying weather conditions and severity.  In addition, in ASCA's Full Dynamics theme, simultaneous variation of up to 8 different texture sets (128 cloud textures total) are provided including simultaneous texture resolution to provide increased performance for certain cloud types that don't require high resolution (such as overcast layers).
ASCA's graphical content includes replacements/enhancements for everything above the horizon: Cirrus clouds, Cumulus clouds, Stratus clouds, Thunderstorm clouds, Sky colors and Lighting. But in addition to the graphical textures, ASCA also includes something very different: Brand New 3D Cloud Structures, which replace and/or enhance nearly every aspect of the cloud scene within the simulator!Thunderstorms are bigger, overcast is more full, light "few" humilis-type clouds are more visually appealing, and all cloud scenes are specifically tuned to match the ASCA texture content and provide maximum realism.
A primary design focus for ASCA was performance. From solid overcast, to towering cumulonimbus, everything was designed for the best visuals with minimal performance sacrifice. Careful 3D modeling of cloud structures and textures enables this, while creating realistic and unique variants of the real-world cloud types including Stratus, Nimbostratus, Altocumulus, Altostratus, Cumulus humilis, Cumulus mediocris, Cumulus congestus, Towering cumulus, Stratocumulus, Cirrostratus, Cirrocumulus, Cumulonimbus incus, Cumulonimbus calvus and more.
While ASCA and AS16 work great together, they are also fully compatible (either alone or together) with any other graphics add-on and weather add-on. You have full flexibility to mix and match any aspect and selectable feature set within these add-ons.
Both products are NOW AVAILABLE for immediate purchase and download! Visit www.hifisimtech.com, www.activesky16.com and/or www.activeskycloudart.com for more!